In the last installment of
On The Shelf
, we discussed DC's facsimile edition reprinting of
Detective Comics 38
, heralding the debut of Robin. That oft-reprinted tale, by Bill Finger, Bob Kane, & Jerry Robinson, had some nice back-up features as well, that haven't seen the light of day in the 80 years since. Until now.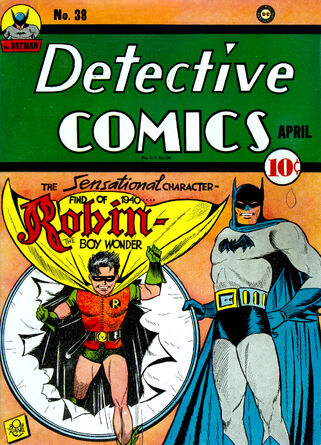 Bart Regan: Spy
was the first of the backups. Coming from the pen of
Superman
co-creator Jerry Siegel, and drawn by Maurice Kashuba, Regan is only given 6 pages to tell a story, a done-in-one mystery, as was the norm in those days. Truth be told, I wasn't familiar with Kashuba at all until reading this short. As it is, the pace is very quick, as again was the norm. I wouldn't be at all surprised if Kashuba stepped in for Joe Shuster on
Superman
once in a while.
Rating: B.
=========================
Next is
Red Logan
, written & illustrated by Ken Ernst in a style similar to some of the adventure strips appearing in newspapers of the day. Logan is an investigative reporter for the
Times Courier
, and after reading this, I began to wonder if he wasn't the inspiration for Jimmy Olsen's
Mr. Action
phase in the post-Jack Kirby issues of his first series.
Rating: B-.
============================
Next comes
The Crimson Avenger
, written & drawn by Jack Lehti. Modern readers might remember The Crimson more from his appearances in
Justice League of America
(1st series) in the 70's, and subsequent inclusion in Roy Thomas'
All Star Squadron
in the 80's, which led to the hero getting his only starring series, a 4 issue mini, drawn by the late Gene Colan, later in the 80's. Standard stuff, but Thomas would give the Crimson the respect he deserved more than 40 years later.
Rating: B-.
============================
The first text piece of the issue is a review of Robert Louis Stevenson's classic,
Kidnapped
. Actually, it's not so much of a review, but rather, a prose adaptation of the tale, without illustrations. Fast forward.
============================
Fred Guardineer wrote & drew
Speed Saunders
, who, like the Crimson Avenger, gained a new audience in the 90's as he was retconned into the
Hawkman
mythos as a cousin of the first Hawkgirl, and grandfather to the more recent iteration, Kendra Saunders, introduced in the 90's
JSA
series. This short piece answers the question of when a kidnapping isn't a kidnapping, a plot used many times since.
Rating: B.
===============================
Next is
Steve Malone, District Attorney
, written & drawn by Don Lynch in a style more closely resembling Kane's work. It's also styled such that you'd be forgiven if you mistook it for reprints from the Sunday funnies. Average.
Rating: B-.
================================
Then comes
Cliff Crosby
, written & drawn by Chad Grothkopf. One cannot help but think of some newspaper strips with this one, too, but nothing spectacular.
Rating: B-.
=================================
The next text page is Richard Martin's
The Case of The Vanishing Train
, which wraps in just two pages. You're going to wish they assigned an artist to this one. Maybe they still can, 80 years later.
Rating: B.
==================================
Finally, there's
Slam Bradley
, another Siegel & Shuster collaboration, only by this point, Shuster wasn't drawing the feature anymore, focusing, of course, on Superman. Dennis Neville took over the art chores here. Shorty Morgan, Slam's sidekick, didn't make it to the modern era when Slam appeared in issue 500 of
Detective
, released more than 40 years later. Modern creators like Ed Brubaker and the late Darwyn Cooke liked Slam enough such that he was brought back, along with son Slam, Jr., in a recent
Catwoman
series, before editorial decided that the Princess of Plunder was Batman's honey, once and for all. Slam's suit here, though, looks like something out of the Clark Kent collection. Hmm. Blue must've been Siegel & Shuster's favorite color. In this case, it's more lighthearted than anything, as Slam & Shorty want to go to a wrestling card, but are sidetracked more than once. Good stuff.
Rating: A-.
Overall rating for the issue: B.